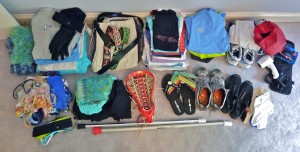 One of the most popular questions (especially from female friends) is, "What do you pack?"
Fortunately, most of our trip will be spent in warm climates with occasional time at cooler altitude, in crisp nights or on Antarctic glaciers. So it's all about the layers. And giving up on fashion…
Technical fabric shirts, shorts and pants. Ugly khaki zip-off pant/shorts. Waterproof jacket and pants. Safari shirt. Jeans. Gore-tex trail shoes. Sneakers. Flip-flops/sandals. Scarf. Beanie hat. Fleece. Thermal under-layer. Bathing suits/surf shirts. Exercise clothes. "Outfit" to wear at night to keep from feeling like tourist all the time. Times 6 people.
Four Scuba masks. Shorty wet suits for boys. Binoculars. Sunglasses. Reading glasses. Headbands. Bug spray. Sunblock. Bouncy balls to use as gifts for kids around the world. 2 lacrosse sticks and balls. Size 3 deflatable soccer ball with pump. Prescriptions, other pills and toiletries. Hair dryer.
Plus 21 electronic things (see Greg's list and picture below) and a few school books.
Follow-up question, "How many bags will you take?"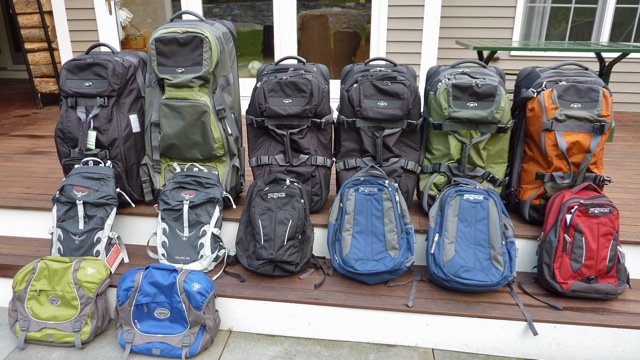 Six rolling duffle bags: each kid gets 28"; Greg's 30" and me 35"(to fit lacrosse sticks!). Big enough to allow children to pack and un-pack easily. Plus some room for purchases!
Six backpacks for school gear, electronics and hiking.
Two messenger bags for documents.
Passport pouches for transit.
Elapsed time Dana spent packing (and thinking about packing)? About 6 months.
Almost there.