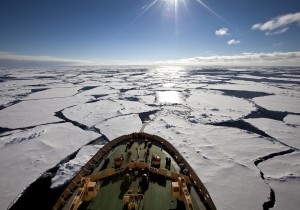 (Dana) 30-day trip around Antarctica. The crowning mid-point of our 6explorer adventure. But from Day 1, the unpredictability and challenges of Antarctic exploration become apparent. In our first 7 days, we cannot board our ship in Stanley; we cannot make our first zodiac landing due to wind; we cannot land on wildly remote Peter I island after a snowstorm blows in; and most importantly, we lose Greg to the Antarctic Peninsula.
After the first week, it's obvious that this adventure requires a very different mindset: Antarctica is a journey, not a destination. We are not on a wildlife cruise; sea animals don't follow the script. Planned outings sometimes fail. And based on ice, snow and seas, there is no guarantee we will see the Phantom Coast or McMurdo Station. Instead, this voyage is about the ongoing movement south; our steady progress through the Antarctic Circle; and the adventure of seeing what will happen day-to-day.
So we stop thinking about the destination. We learn to focus on the sheer beauty of the continent and marvel at the unimaginable vastness of the tableau. Miles and miles (and miles) of geometric ice floes. The Ross Ice Shelf, which stretches along the Ross Sea for 480km at a height of up to 50M. Graveyards of mega-ton icebergs, which have calved off of glaciers and float silently through the Antarctic currents. 24-hours of sunlight with brilliant blue skies at midnight. Icebergs with cobalt blue highlights, sometimes reflected in perfectly still water.
And we notice smaller aspects of the journey. The beauty and sound of ice breaking under the bow of this powerful vessel. Being in places that only a few thousand people have ever seen. Learning how the early explorers survived. Enjoying new friendships. Spending time reflecting on life.
My concern was that this would be hard for the kids to appreciate fully. Yet when Greg returned, they described perfectly many of the things that had awed and inspired me. They didn't just focus on the mind-blowing experiences like polar plunges and Emperor penguin chicks. They didn't worry about the landings we couldn't accomplish.
Over-achieving, goal-oriented people focus on the destination. Children ,and people learning to appreciate each day for what it can be, appreciate the journey.