(Alex and Emma) Today all six of us are wearing new sarongs and sashes for a traditional Balinese wedding. We had asked our driver, Wayan, to bring us to places not too many tourists have been, and he offered to bring us with him to a wedding in his village. The ceremony this morning is at the groom's family's house; this afternoon there will be a similar ceremony in the bride's village.
Walking down the street towards the groom's house, we almost ask Wayan in which family compound the ceremony will take place. As soon as we turn the corner, we don't need to ask anymore. Ahead of us are two, huge, very colorful decorations in front of and on top of one entrance gate. Walking in, the first thing that catches our eye are all the women rushing around. They are serving guests, placing offerings everywhere and making sure that everything is perfect for the 10 AM wedding. Colorfully dressed in sarongs, lace tops and ceremonial sashes, the women keep moving, unlike most of the men who just sit around relaxing. The whole courtyard smells of burning incense as offerings to the Hindu gods. The colors are extraordinary; not one area is left untouched. On the bale dangin (the open pavilion where the ceremony takes place), there are two cakes 5-feet tall. One is very colorful and made of sweet rice dough that has been carefully dyed and shaped into special characters.
The other is a pig cake; literally a cake made out of a pig. The head is the centerpiece. Sticks of satay and pieces of meat and fat adorn the structure. There are flies all over it. Apparently it is a very lucky offering and very, very hard to make; we just think it's gross.
Sitting inconspicuously in the back, we can barely see the priest, but it doesn't matter; we are there for the experience. Traditional Balinese music is being played by a gamelan orchestra of gongs, drums, gangsas (large metalaphones) and bamboo flutes. All the guests are socializing. Dancers with masks entertain. The women server the family men and the local priests all dressed in white. A small bell rings, more incense is lit, and the anticipation builds.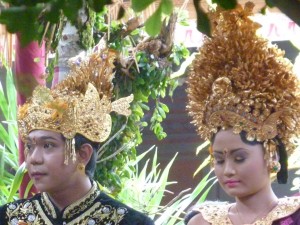 Finally at 10:45, the bride and groom walk into the courtyard wearing their full traditional regalia. The bride looks gorgeous in her one foot tall golden crown. Her husband looks like a woman with his golden crown and too much make-up. It is a short ceremony, consisting of many prayers, burning incense, a cracked egg and the purification of their minds and hands. As a family, they walk to the back of the compound to honor their ancestors in the family temple.
We enjoyed the ceremony and its traditional aspects, but we might have appreciated it more if we actually understood Balinese!