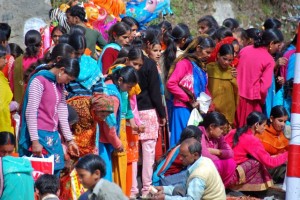 (Dana) Sometimes on this adventure, we get lucky… lucky to be in the right place at the right time. March 2nd is the annual puja (ceremony), celebrating the wedding of Lord Shiva at the Jageshwar Temple in the Himalayan hills. Arriving in Jageshwar, a town of maybe a hundred families, we are quickly swept into the colorful crowd of residents and pilgrims, moving toward the 8th century temple. The road funnels tightly between rows of vendors selling food, bangle bracelets, elaborate gold jewelry and other mementos. Jalebi – fried dough – bubbling in pink-hued oil. A rainbow of saris – gold, orange, pink, magenta, purple, marigold, green, peacock blue. Greg and I giggle as Alex's blond ponytail bobs in a sea of long black braids.
The temple is one of the 12 Jyoti Lingams — phallus of light temples – in India dedicated to Shiva, one of the Hindu triumvirate of primary gods. According to legend, the other two primary gods, Vishnu and Brahma, were fighting over who was stronger. When there was no clear winner, the earth split apart and a pillar of incandescent light emerged. Both wanting to find the source, Brahma took the form of an eagle and flew, and Vishnu went underground in the form of a boar. After 1000 cosmic years of futile searching, they gave up and Shiva appeared from the light, proving his superiority. Today, Shiva is the God most revered in this part of India.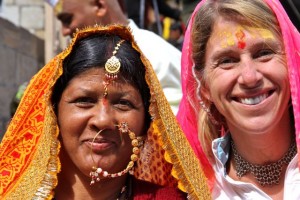 After leaving our shoes, we dive into the crowd milling around the main temple. Several men offer blessings and anoint foreheads with yellow sandalwood and red vermillion for women (to keep our third eyes cool and calm). We are handed a small plastic cup of coconut milk. Inside, the crowd moves toward the garbh griha (inner sanctum). Bells clang. Incense burns. Finally, we push our way in and settle into a corner in front of the phallus, which is piled high with food offerings and flower garlands. Pilgrims pour their coconut milk onto the pile in offering to the snake, one of Shiva's forms. One of the priests accepts our guide's donation and provides the 6explorers with a private blessing. Chanting. Singing. I recognize our 6 names. We are blessed with long, healthy prosperous lives. Greg and I join hands holding a rhododendron and are blessed for a strong, long marriage. We are handed blessed bananas. I am mesmerized. Outside, a young novice ties red yarn around our wrists. Open-mouthed stares follow us as we wind our way out of the temple and back into the street. In fact, we are asked to pose for as many photos as we ask of the women in colorful saris.
Being in the right place at the right time occurs again a few days later. We happen to be at the Jankarshein Temple, well off the beaten track in the Himalaya foothills, just as a family prepares to sacrifice two goats for agricultural prosperity. Animal sacrifices still occur in the foothills, although not in most of India. Dressed in their finest, the family takes photos. The goats are adorned in garlands. One man sharpens a long, crescent knife. Next thing we know, the goats are beheaded. Blood spills. Unbelievable. I never thought that I would see this.
I don't think that many foreign tourists get to see what we did this week. These are the kind of experiences I most cherish on this trip. How lucky.