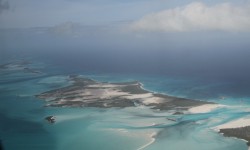 On New Year's Eve, each family member identifies one thing that he/she wants to make go away for the upcoming year. We write our item on a slip of paper and burn it.. This year, Emma's was to reduce waste in her life – trash, paper, food, etc. In keeping with Emma's goals, I opted once again for an electronic annual update: no paper, no stamps, no returned envelopes with out-of-date addresses.
This year, these resolutions were pledged aboard AREA in the Exuma Islands in the Bahamas. Not including our incredible one-year adventure, our best family vacations have occurred on our sailboat, many of them in the Exumas. Named for the four kids (Andrew, Reis, Emma, Alex), AREA is our home-away-from-home on the water. It is part of our life because we believe that "tight spaces make close families;" and it's just large enough to host the six of us without our killing each other.
The Exumas are incredibly beautiful and peaceful islands with impossibly blue water and miles of empty white-sand beaches. Accessible only by boat, many of these islands are uninhabited and perfect for snorkeling, ball playing, swimming and reading.
It was a calm ending to a very active year where once again, the kids got "outside their comfort zone" in their individual ways:
The highlight the year for Alex (15) was her summer at African Leadership Academy in Johannesburg, South Africa. We learned about ALA in 2010 when we agreed to be a host family to Courage Matiza, a sophomore at Amherst College from Zimbabwe. When Alex discovered ALA's summer Global Scholars Program for high school students around the world, she applied entirely on her own and was accepted. So we placed her on a plane all by herself to Johannesburg to spend 3+ weeks with 55 other students – 28 from within African and the rest from western countries. Together, their cohort completed a leadership curriculum including team-building exercises, went on field trips, completed service projects in the townships and explored their surroundings. Although we were comforted by the fact that our friend Coral-Lynn was only 45 minutes away, Alex's adventure was fully independent.
Emma (14) opted for a different international experience. She accompanied me on a trip back to Cambodia where I had joined the board of Cambodian Living Arts. CLA's mission is to facilitate the transformation of Cambodia through the arts. During our 10 days in Cambodia, Emma attended multiple performances, re-experienced the magic of Angkor Wat and reconnected with our guide Phal and his effort to bring clean water to the people of rural Cambodia (see her post on Water).
Adventure for Andrew and Reis (12.5) was closest to home – enrollment in Roxbury Latin School, an all-boys independent school 25 minutes away. Very academically rigorous, RL has already challenged the boys tremendously. The requirement to participate in sports in the Fall and Spring put Andrew and Reis on the soccer pitch as part of an undefeated season. And the Junior Chorus and the Junior Play are giving them an opportunity to showcase their love of singing and acting. It has been a demanding but great fit for them.
All six of us recognize how fortunate we are and look forward to 2013, which will certainly include working on our New Years Resolutions.